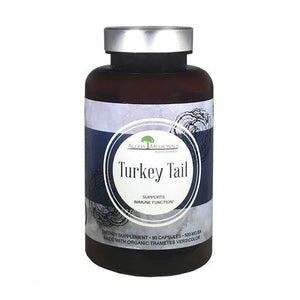 Aloha Medicinals
Turkey Tail (Bladder and Immune Support) 90 caps
Regular price
$24.95
$0.00
Turkey Tail (Immune Support) from Aloha Medicinals

Pure Turkey Tail™ is made from Turkey Tail mushrooms known for intense immune support!
Turkey Tail – known as Trametes versicolor – contains a unique profile of protein/peptide bound polysaccharides that have been shown to support immune function.
Pure Turkey Tail™ is guaranteed to contain more than 300mg of polysaccharides (60%) in every capsule and is made by the world's largest producer of Full Spectrum medicinal mushrooms.
Aloha Medicinals Pure products are 100% American Grown Full Spectrum Mycoproducts, 100% Pure, Certified Organic Mushroom Supplements. All Pure Products are guaranteed to contain all the active ingredients found in that species of mushroom, and are guaranteed to be the most potent medicinal mushroom supplements on the market today.
Benefits of Pure Turkey Tail™
Provides intense immune system support
Supports healthy digestion
Has antioxidant properties
Supports healthy liver function
90 Capsules Supplement Facts
Serving Size: 1 Capsule
Servings per container: 90
Amount per Serving
Organic Trametes versicolor*
500mg✝
✝ Daily Value Not Established
* mycelium, primordia, fruitbodies, and extracellular compounds
Other Ingredients: Vegetarian Capsule (Pullulan), Organic White Milo (Growing Substrate)
---
Share this Product
---